I am approaching the end of my 60-day trial. Overall, there is much to like, but I've also run into quite a few things that could be improved and this one "fatal" flaw.
This is, for me, the worst thing. I decided to try D.Opus because I wanted something more reliable and with better performance than Windows Explorer. In general, it seems to deliver. However, when I open a folder that is sync'ed with OneDrive (including SharePoint, where I spend a lot of my time), it quite frequently takes a long time to read the folder and display it. I get this, which is reminiscent of the spinning hourglass: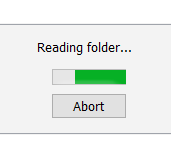 Sometimes it takes 5 seconds, often it takes 20-30 seconds or more. I've even had a case where it took over 10 minutes! I've also had cases where I simply ran out of patience, copied the path, opened Explorer, pasted it, did whatever I needed to do, closed Explorer -- and D.Opus was still chugging along reading the list of files...
I hope there is a simple setting I can change that will fix this issue. If not, I hope you can promise a release soon that addresses this issue.
I like D.Opus a lot, but this one issue can be a deal breaker. Having to return to Explorer much of the time gets old real fast.