See Also:
---
Cost:
Current versions of this viewer require a SmartFTP licence, which is not free. (Back when the post was written, the viewer didn't need this, but that has since changed.)
---
Install this, and it works straight away, nice and easy!
smartftp.com/client/addons/sourcepreview/
Nothing else needed, going to find/write one with nicer colours though if there isn't any way to change them without hacking the DLL...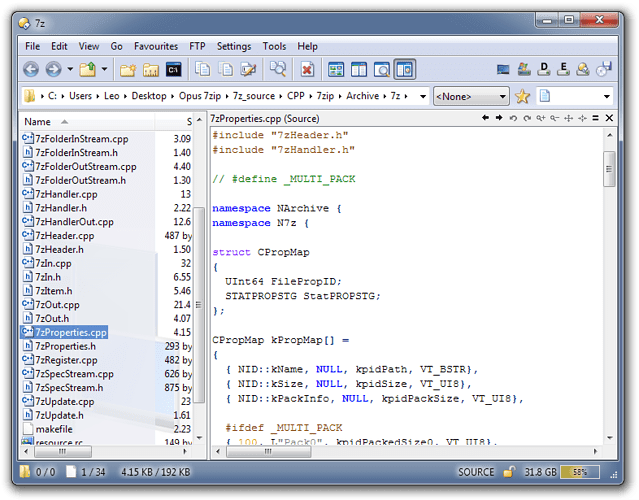 Supported extensions/types:
ActionScript (.as, .mx)
ASP (.asp)
ASPX (.aspx)
AutoIt (.au3)
Bash (.sh, .bsh)
Batch (.bat, .cmd)
Caml (.ml, .mli, .sml, .thy)
C (.c)
C++ (.cpp, .cxx, .cc, .h, .hxx, .rgs)
C# (.cs)
CSS (.css)
Diff (.diff, .patch)
Fortran (.f, .for, .f90, .f95, .f2k)
Ini (.ini, .inf, .reg, .url)
Inno Setup (.iss)
Java (.java)
JavaScript (.js)
Lisp (.lsp, .lisp)
Makefile (.mak)
Matlab (.m)
NFO (.nfo)
NSIS (.nsi, .nsh)
Pascal (.pas, .inc)
Perl (.pl, .pm, .plx)
PHP (.php, .php3, .phtml)
Python (.py, .pyw)
Resource (.rc)
Smalltalk (.st)
TeX (.tex)
SQL (.sql)
VB (.vb)
VBScript (.vbs)
XML (.xml, .xsd, .xsml, xsl, .kml)
(Not all of the types above are assigned to it by default. To change them in Opus, use go to Settings -> Preferences / Plugins / Viewers: ActiveX + Preview + Office + Web and click Configure, then find Source in the list of preview handlers and modify the list of extensions.)