See also: Full Menu (for Directory Opus 11)
This is an attempt to create a menu with almost everything Directory Opus can do. It is mostly based on the default Directory Opus configuration but with a few additions and assembled into menu form. It can be useful as a complement to your toolbars when you need access to some rarely used feature.
The menu defines hotkeys for all menu items that had hotkeys in the default configuration. Since some of these were not part of the toolbars you will get some duplicates. This doesn't really matter.
I also include a version of the menu that does not define any hotkeys.
For a french language version, look at mykael's reply further down this page.
Installation
Download the zip file, unpack it and double click one of the toolbar files. You can then set it up further in Customize Mode. Remember to set the default lister or the default toolbar set if you want to keep using it.
Update 2018-05-02
Paste and Paste Shortcut now displays the current clipboard content in its tooltips
Added Collapse Listers to the File menu, it moves all tabs in other listers to the current lister and closes them
Added Autosize Lister to the View menu, it resizes the lister window to fit all columns in details and power mode
Added Blur Filenames to the Options menu, it is useful for taking screenshots without revealing sensitive information
Added a whole range of Take Screenshot menu items to the Help menu, for taking screenshots of listers or the whole desktop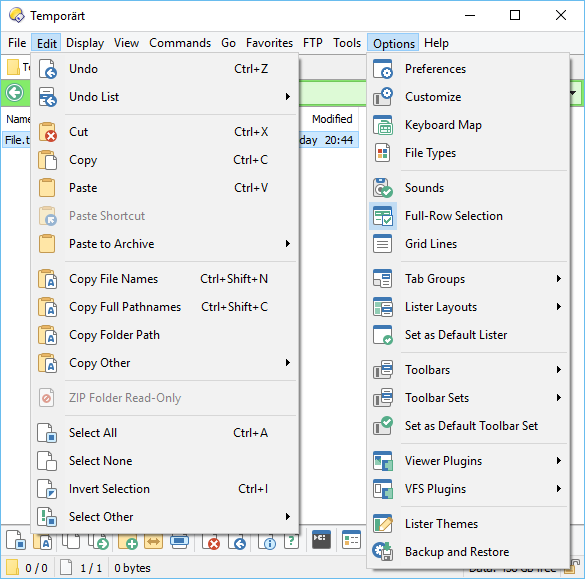 FullMenu.zip (29.2 KB)