Background:
This project was inspired by @Steve's excellent Photo Exif script which was inspired in turn by @auden's metadata entry system. I added support for tagging and button driven next/previous navigation plus the ability to monitor changes to the source folder using Dialog.Watchtab. As the script developed it struck me that tagging and rating can be applied to any file so it has morphed into a general purpose file tagger with additional information provided if the file is an image. The UI is heavily based on @Steve's layout with several added bells and whistles.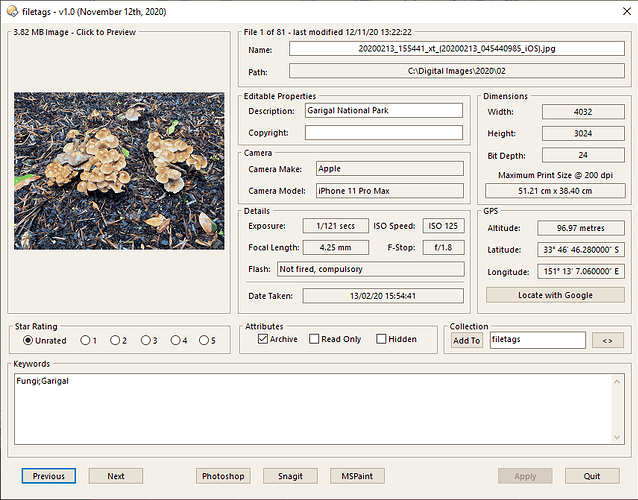 Features:
Sequentially displays information about selected files, or all files in the current folder.
Information varies according to the current file type - e.g. image, movie, program, document.
Most files can be previewed in an appropriate form by clicking on the associated thumbnail.
Star ratings, tags and some file attributes are editable for all file types.
In addition, description and copyright are editable for images.
The current file can be renamed from the dialog.
Programs, documents and PDFs can be launched via a button.
Up to three image processing applications can be configured - e.g. Photoshop, Snagit, Irfanview, etc.
Up to three editors can be configured - e.g. Notepad++, Frhed, UltraEdit.
The current file can be added to a nominated collection.
Persistent Dialog:
Folders and tabs are tracked by the dialog as the user navigates.
Next and Previous buttons provide easy navigation.
The dialog is refreshed when file selections are changed by the user in the associated tab.
Installation:
filetags 1_3.js.txt (51.4 KB)
Download: filetags 1_3.js.txt - requires at least DOpus 12.21.5 Beta.
Copy to Script Addins (just type /scripts into the address bar) to locate.
Usage:
filetags.dcf (727 Bytes)
Download filetags.dcf
Select "Settings/Customize Toolbar..." and drag the .dcf button file to any toolbar.
The left mouse button will execute with no debugging and the right mouse button will execute with maximum debugging.
Debugging information is written to the "Other" log.
Config:
A number of options are available in the normal Script AddIn configuration editor.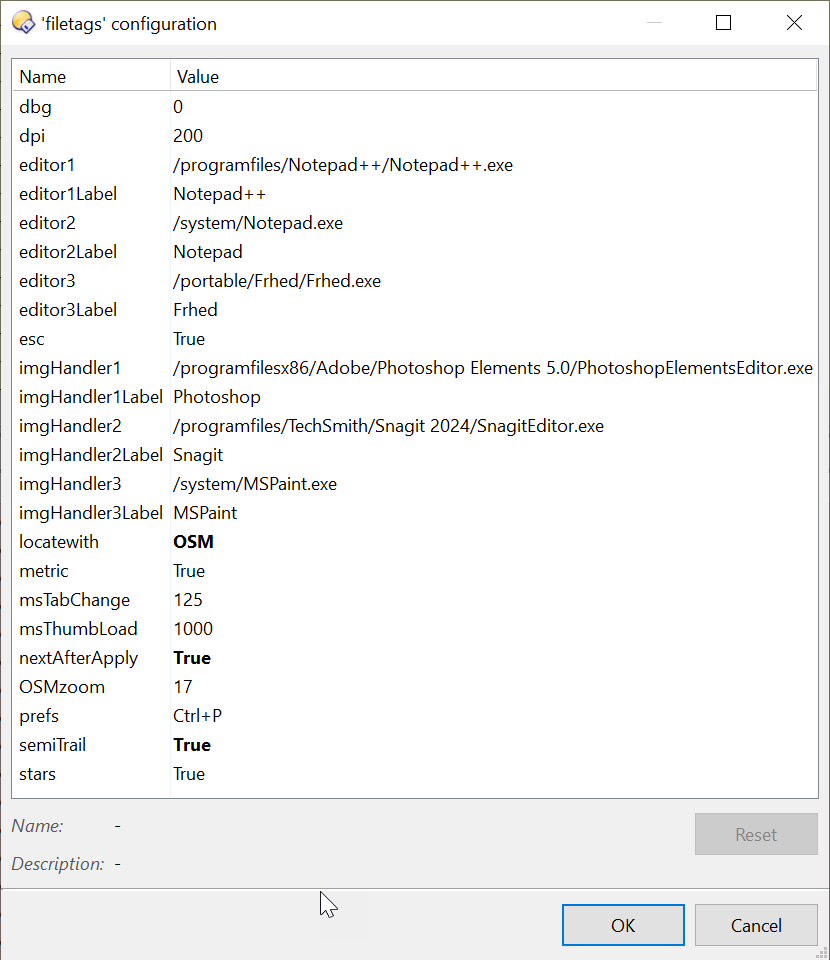 History:
1.0 (12th November 2020) Initial Release
1.1 (23rd November 2020)
Fix problem with DOpus.Loadimage with invalid image files
Add support for the Esc key as a means of exiting the dialog
Handle undefined focal length
1.2 (24th November 2020)
Improve handling of invalid images
Allow tagging and rating and attribute setting on all existing non-archive files
Add support for Ctrl+0 through Ctrl+5 for setting star ratings
Add support for Ctrl+P (configurable) to access script preferences
Make Esc to exit dialog optional (default = true)
1.3 (31st October 2023)
Add support for OSM zoom and pinpoint
Add support for trailing semicolon
Add support for move to next after Apply
Fix click to preview