Hallo!
Is there anybody out there who planned to develop such a plugin? I'm asking, because I don't want to do things twice...so please reply if someone is working on this thing!
Last weekend I made a simple test implementation of Scintilla for DirOpus to get an overview of the effort and what is possible. Looks like, x64 and Windows 7 support is easy to realize. But I'm not an expert in Windows programming. Supporting different languages (and styles) and a nice configuration GUI will be more time consuming I think.
I was a real fan of the well known Sourcecodeviewer plugin, though it had some bugs in it. As the source code is not available and I was missing some features, I plan to rebuild it. But as I am currently very busy, don't expect too much.
My motivation:
Create a simple source code editor within Opus (not more or less than the first Sourcecodeviewer plugin)
Make it stable
Make language styles configurable (via configuration files)
Try to find a way to transfer the search string of the Opus simple search to my new plugin to automatically mark text occurences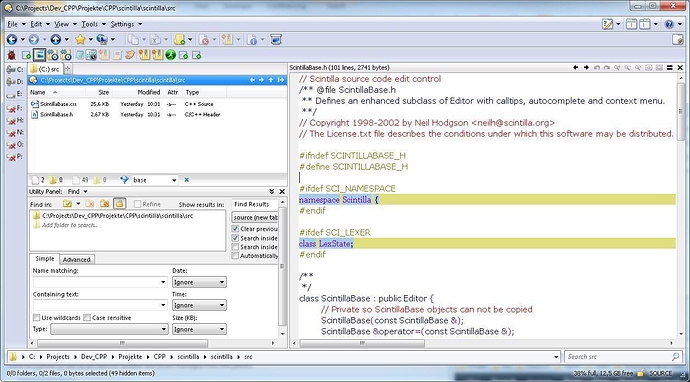 Best regards,
Sven