[See Also: Color Folder Icons]
Sometimes it's useful to assign different colors and text styles to files and folders so that they stand out from normal items. This post explains how to create a right-click context menu to do just that.
The result will look something like this: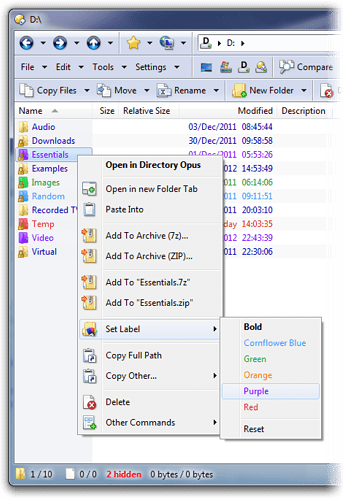 Note that Directory Opus 12 and above come with the context menus built-in (if you are using the default configuration), while Directory Opus 10 and above comes with something similar as part of the default toolbars: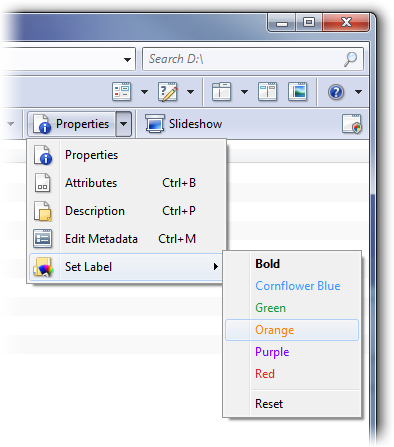 If you are using a recent version of Opus and happy with what you already have, then you don't need to change anything at all.
Before we begin, note that you can add, remove and modify the available colors and text styles via Settings > Preferences / Favorites and Recent / File and Folder Labels. There you can also see and manage all of your labelled items from a central place.
Here's how to create a context menu that allows you to right-click things to set their colors (in case your config dates back to an old version that didn't have this built in):
Go to Settings -> File Types and edit the All Files and Folders type near the top.

Go to the Context Menu tab, click New and set the Type drop-down to Sub-menu. Name the menu Set Label (or whatever you want) and click OK.

Click New again and this time set the Type drop-down to Run an Opus function. Enter Properties SETLABEL as the function and click OK.

You can move the two new items around in the menu as you like. Just make sure the sub-menu stays directly above the Properties SETLABEL command, so they are indented like in the screenshot below.

If there are any other items below the command then they will initially be indented and inside of the sub-menu as well. To move them out of the sub-menu, right-click the first item after the command and select Decrease Indent to end the sub-menu.
You should end up with something like this: